DRH Enterprises
Donna established DRH Enterprises as a vehicle for her speaking, media, publishing and consulting endeavors. All DRH-related projects are focused on promoting truth and positive culture change.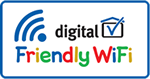 Friendly WiFi sought out internationally known Internet safety expert, Donna Rice Hughes, CEO and President of Enough Is Enough (EIE), a U.S. based not-for profit organisation whose mission is to make the Internet safer for children and families to bring the Friendly WiFi accreditation service to America. The service is operated under her business, DRH Enterprises.
The 'Friendly WiFi' symbol is available to any business providing public WiFi, who filter pornography and child abuse images on there public WiFi. The 'Friendly WiFi' symbol is displayed by each business signed up to the Friendly WiFi scheme and appears either on their landing page as you sign into their public WiFi, or is visible on signage within the venue.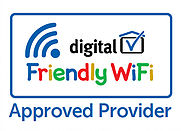 Wherever this symbol is displayed on site or online, parents and young people can be assured that the business's displaying the symbol have the correct filters in place and their public WiFi service is safe to use. To learn more about applying for the Friendly WiFi "good housekeeping seal of approval" or to become a Friendly WiFi Approved Provider click here: https://www.friendlywifi.com/friendly-wifi-usa.
---
"Corporate America needs to exercise responsiblity to be part of the solution to keep children and families safe while using public WiFi services. The Friendly WiFi accreditation seal is a win-win for the corporation who offers filtered and friendly WiFi, and is well-positioned to become the "Good Housekeeping Seal of Approval" to help guide consumers where to go to use safe Wi-Fi in the U.S."
-- Donna Rice Hughes