DRH Enterprises
Donna established DRH Enterprises as a vehicle for her speaking, media, publishing and consulting endeavors. All DRH-related projects are focused on promoting truth and positive culture change.
---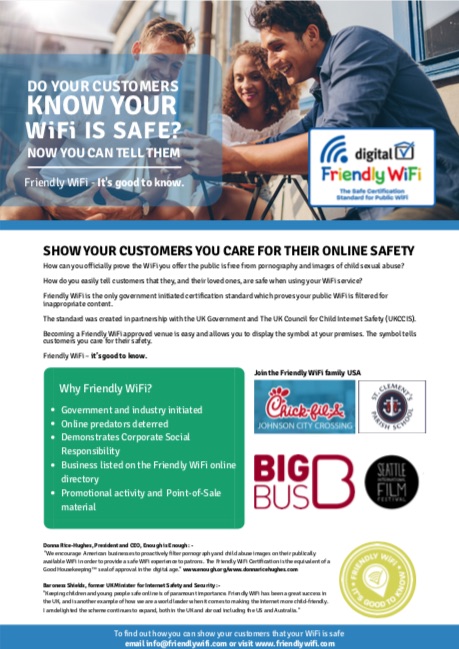 Friendly WiFi sought out internationally known Internet safety expert, Donna Rice Hughes, CEO and President of Enough Is Enough® (EIE), a U.S. based not-for profit organisation whose mission is to make the Internet safer for children and families to bring the Friendly WiFi accreditation service to America. The service is operated under her business, DRH Enterprises.
The 'Friendly WiFi' symbol is available to any business providing public WiFi, who filter pornography and child abuse images on there public WiFi. The 'Friendly WiFi' symbol is displayed by each business signed up to the Friendly WiFi scheme and appears either on their landing page as you sign into their public WiFi, or is visible on signage within the venue.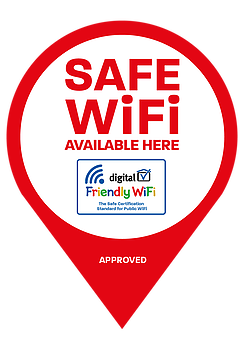 Wherever this symbol is displayed on site or online, parents and young people can be assured that the business's displaying the symbol have the correct filters in place and their public WiFi service is safe to use. To learn more about applying for the Friendly WiFi "good housekeeping seal of approval" or to become a Friendly WiFi Approved Provider click here: https://www.friendlywifi.com.
---
"Corporate America needs to exercise responsiblity to be part of the solution to keep children and families safe while using public WiFi services. The Friendly WiFi accreditation seal is a win-win for the corporation who offers filtered and friendly WiFi, and is well-positioned to become the "Good Housekeeping Seal of Approval" to help guide consumers where to go to use safe Wi-Fi in the U.S."
-- Donna Rice Hughes
---
Friendly WiFi has won endorsements in the United Kingdom:

Simon Redfern, Starbucks Communications Director, said;" Our customers love using the free WiFi available to all in our stores. Working with Friendly WiFi enables us to offer the right balance of freedom online while protecting users from accessing content that may not be appropriate for them or others around them. He added; "At Starbucks, we offer a friendly and safe environment where people can relax and enjoy themselves. We have offered free WiFi in all of our UK stores since 2011 and, working with British Telecom have had content filtering in place since 2013. When they see the well-recognised 'Friendly WiFi' symbol in our stores and on our landing page, all of our customers but particularly young people and their parents, can be reassured they can go online safely at Starbucks."
"Supporting schools and other organisations to keep young people safer online is a key priority at SWGfL (South West Grid for Learning) so we're delighted to be working in partnership with Friendly WiFi to help promote awareness of the scheme" explained SWGfL's Education Manager, Julia Adamson.
Lakeside Village will now display Friendly WiFi throughout the centre, showing shoppers that its public WiFi service is safe to use. Chery Sadler, centre manager at Lakeside Village, said: "We're delighted to have been named as a Friendly WiFi provider – one of only a handful of organisations to have the accreditation in the local area. The safety of our shoppers is paramount and, as a family-friendly shopping centre that offers free WiFi, we're 100 per cent committed to making sure the internet access we provide our shoppers with is filtered and safe for people of all ages to use."
Roy Grant, Head of ICT at City of York Council said: "This is another first for York. CityConnect WiFi from Pinacl has proven popular with residents and tourists and we are delighted it has received the Friendly WiFi accreditation. It is important that children can browse the internet safely and we are pleased to offer this service in York's city centre."
Baroness Shields, the UK Minister for Internet Safety and Security, says "Keeping children and young people safe online is of paramount importance. The Friendly WiFi scheme has been a great success in the UK, and is another example of how we are a world leader when it comes to making the Internet more child-friendly. It's extremely encouraging to see so many providers supporting the scheme and raising standards. I am delighted the scheme continues to expand, both in the UK and abroad including the US and Australia."

Andrew Uden, Category Technical Manager for Tesco said: "As the UK's leading retailer it's important we do everything we can to make sure children are properly safeguarded in our stores. 'Friendly WiFi' means parents can be safe in the knowledge that we are doing all we can to make sure unsuitable content is not accessible through Tesco wireless networks. This will be made clear to customers by the display of the 'Friendly WiFi' symbol in our stores."
Claire Lilley, Head of Child Online Safety at NSPCC has given the scheme her backing: "Children often go online when they are out and about and parents need to know that using a public Wi-Fi network won't expose them to pornography or other adult content. So it's very reassuring for parents to know that when they see the 'Friendly Wi-Fi' logo they can allow their children to go online in safety. However, as with any filtering measures it's vital not to be complacent and we urge parents to talk to their children about what they get up to online and what to do if they have any concerns."
John Carr, Secretary of the UK's Children's Charities' Coalition on Internet Safety added; "I am very happy to support the work of the UK's first 'Friendly WiFi' initiative and its goal to help protect children and young people online. The commitment made by the UK's main Wi-Fi providers is a huge step forward with regards to online safety as it's the first time providers of internet access in public spaces have acknowledged their responsibility to all internet users and for that they deserve hearty congratulations."